Spend Christmas in Budapest in 2023 | Thermal Baths, Pálinka, Bar-Hopping, and more!
Contents
Budapest is a stunning city that enjoys all four unique seasons, but it really comes into its own during the holiday season when the celebrations start. Budapest during Christmas is all about glistening holiday lights, relaxing in the spas, and indulging in an infinite supply of food while taking in the great mood in the city. You will definitely enjoy Christmas in Budapest.
Why spend Christmas in Budapest?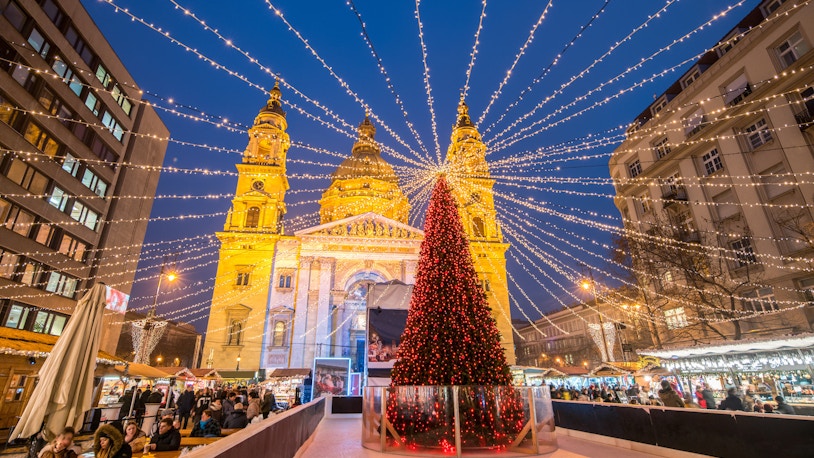 Local traditions make Christmas in Budapest more exciting for first-time visitors.
The city looks absolutely stunning with its lights and the locals joining in with the tourists during the festivities.
Traditional food and beverages are available in abundance in Budapest during Christmas making the list of foods to try a little longer.
The Christmas markets are put up all across Budapest and sell a variety of artisan items and traditional foods.
Budapest is a very attractive city, but it appears even more alluring when it is covered with snow. It is very amazing to see.
Top 8 Things To Do During Christmas In Budapest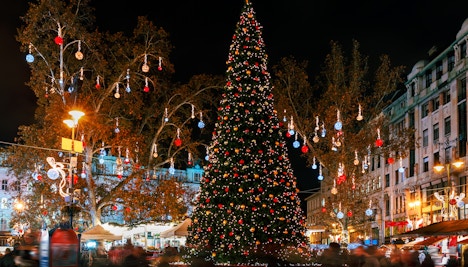 1. Visit the Christmas markets
In keeping with the European convention, Budapest's central district is transformed into an outdoor holiday market wonderland in December. One of everyone's indisputable favorite things to do in Budapest during the holiday season is to visit each of the city's Christmas markets.
The best Christmas markets of the season are in: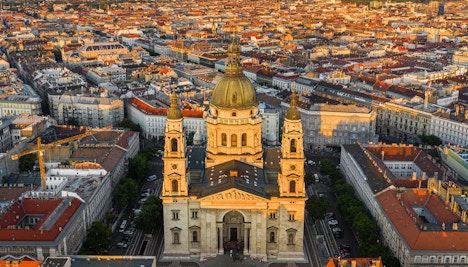 2. See the sunset from St. Stephen's Basilica
As the only time of year when you can view the sunset from the top of the Basilica, winter is a truly magical season in Budapest. One of the nicest things to do in Budapest during Christmas is to visit the Christmas market in front of the Basilica, which is even more enchanting when viewed from above during the festive season. It can be a memory that you will cherish for the rest of your lives.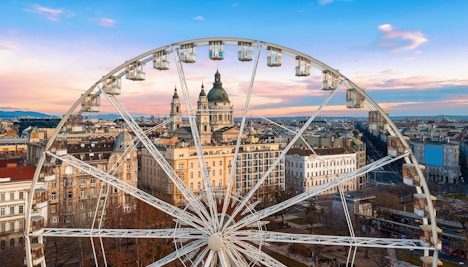 3. Watch the city from the Budapest Eye
Due to the constant influx of couples, families, and groups of friends, it's one of the greatest holiday activities in Budapest. It's also among the best locations to see the city's Christmas and Hanukkah decorations. The Ferris wheel is so popular that it is open for business even on Christmas Day, New Year's Eve, and New Year's Day.
Know more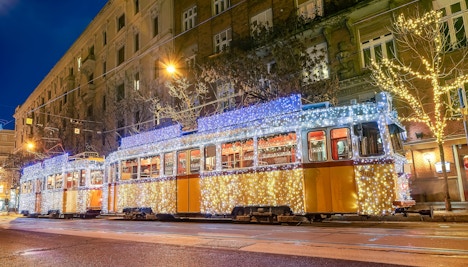 4. See the city's Christmas lights
By the end of November, the Budapest is covered in Christmas lights, which gradually turns the city into a winter wonderland in the days leading up to Christmas. These can be seen while sightseeing during the day, but the best views are at night when the lights are all lit up. Take a walk from your hotel and you are likely to come across Christmas decorations within 10 to 15 minutes.
Check out the best places to see Christmas lights: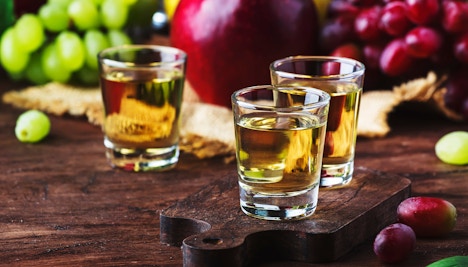 5. Try Pálinka
Pálinka is a traditional Hungarian alcoholic beverage made from fermented fruits such as cherries, pears, plums, and apricots. It is similar to fruit brandy. It's quite potent, which makes it a fantastic winter warmer to ease the chill. It's a staple at the Christmas celebrations and is sold at the Budapest Christmas markets as well as at some restaurants.
The best Pálinka in Budapest can be found in: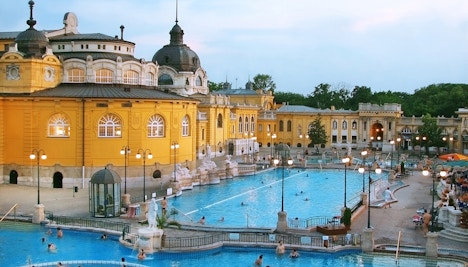 6. Visit the thermal baths
Budapest has an abundance of thermal baths that can compete with those in Istanbul, and they are ideal to visit in the winter. Actually, Christmas is a much better time to visit them since you can warm up while it's still considerably colder outside. Even with the slightly higher crowd, the baths are quite enjoyable.
Best Thermal Baths to Visit During Christmas are:
Book Budapest baths tickets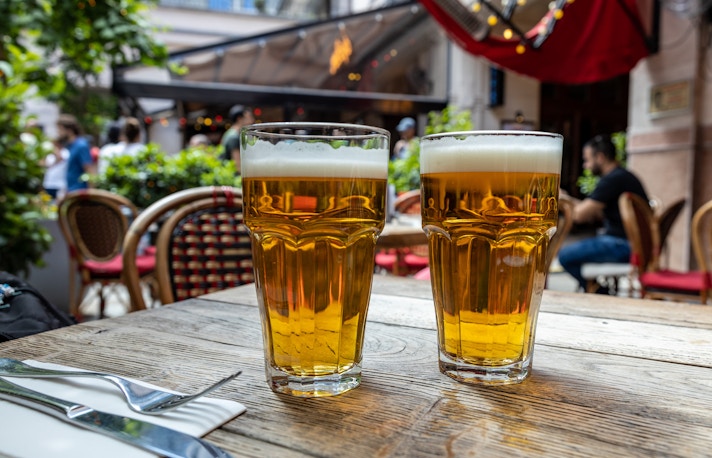 7. Bar hop in the Jewish Quarter
The Jewish Quarter is now teeming with bars where you may have a drink and mingle with locals. The neighborhood offers a variety of kosher and foreign cuisines. One of the best things to do in Budapest's nightlife at Christmas, or really any time of year, is to visit the "ruin" bars. The area is also decked up during this time because of Hanukkah.
Great bars and clubs to visit in Budapest are: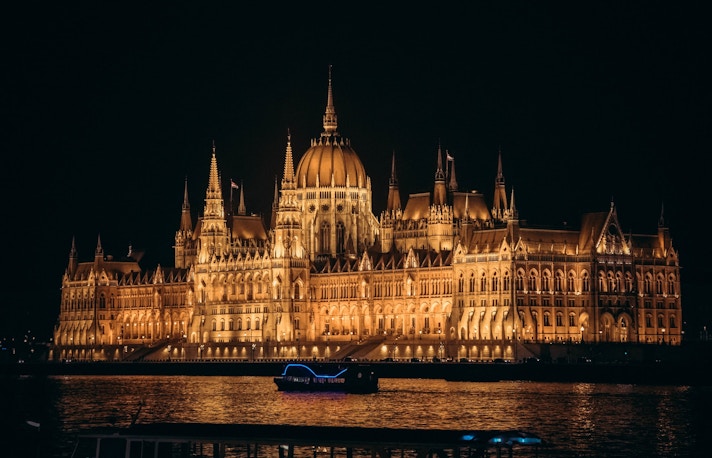 8. Take a festive cruise on the Danube
December sees the introduction of special cruises that feature holiday-themed cuisine, decked-out ships with cheery Christmas décor, and live musical entertainment. There are numerous boat parties to select from if you plan to spend the festive period in Budapest. This is also one of the best family experiences you would want at Christmas in Budapest.
Types of Danube River Cruises you can pick from:
Book Danube River Cruises tickets
Frequently asked questions about celebrating Christmas in Budapest
Is Christmas a good time to visit Budapest?
Yes, a trip to Budapest around the Christmas holidays is an excellent idea. Budapest's natural beauty is unmatched, and the Christmas celebrations, lights, and snowfall only make it more stunning.
What are some things to do in Budapest on Christmas?
Some of the things that you must do in Budapest at Christmas are riding the Budapest Eye, visiting the Christmas markets, walking down the streets to watch the Christmas lights, and bar hopping in the Jewish Quarter.
What is Christmas in Budapest like?
Christmas in Budapest is among one of the most beautiful in Europe. The city decks up in pretty lights, the thermal baths become the hotspot of visitor interest due to the weather, and tourists from all over the world join the celebrations to make it a truly mesmerizing affair.
What is the weather like at Christmas in Budapest?
The temperature rarely dips below 0 degrees in Budapest during Christmas. Make sure to carry enough warm clothes to cover up!
Does it snow at Christmas in Budapest?
Snow is quite likely during Christmas in Budapest.
Is Budapest crowded at Christmas?
Budapest's Christmas is well-known, which adds to the city's crowdedness. It doesn't, however, prevent you from taking part in Christmas celebrations.
What is the most popular Christmas market in Budapest?
The most popular Christmas market in Budapest is in Vörösmarty tér.
Are restaurants open on Christmas in Budapest?
Yes, most of the restaurants are open on Christmas in Budapest and offer special menus.
What are the best places to stay in Budapest for Christmas?
The Novotel Budapest Danube is a must-stay location throughout the holiday season in Budapest. During the festivities, it offers wonderful views of the city. Alternatively, you can think about InterContinental Budapest and the Sofitel Budapest Chain Bridge.
What should I eat in Budapest at Christmas?
You must try pálinka, kürtőskalács, gulyásleves, hurka, kolbász, and szaloncuko when in Budapest during Christmas.
What are the best restaurants for Christmas in Budapest?
Some of the best restaurants for Christmas in Budapest are Bamba Marha Burger Bár, Monk's Bistrot, Corinthia Budapest, Araz Restaurant, and KOLLÁZS - Brasserie & Bar.
Where can I see the Christmas lights in Budapest?
Bajcsy-Zsilinszky út, Jewish Quarter, and Szabadság tér are some of the best places to see the Christmas lights in Budapest.
What are some Christmas traditions in Budapest?
During Christmas, people in Budapest decorate their front yards and tables with beautiful advent wreaths, give gifts to children that are said to be from Mikulás, make and eat poppy seed desserts, and gather together as a family for Christmas Eve.